Community Justice Ayrshire are championing the efforts of our Unpaid Work Teams across Ayrshire.  We want people to understand the importance of their role in community justice and reducing re-offending.   We hope this information will raise awareness of the benefits of unpaid work and highlight some of the positive action undertaken in our communities.
Today we shine the spotlight on our Unpaid Work Team in South Ayrshire.
What is a Community Payback Order?
A Community Payback Order is a sentence imposed by the Courts.  It offers Courts a disposal for use as a first response and for use with those who have defaulted on payment of a fine.  A Community Payback Order is a sentence served in the community rather than in a prison.
What is Unpaid Work?
A Community Payback Order consists of one or more of nine requirements including supervision, compensation, unpaid work or other activity, mental health treatment, drug treatment and alcohol treatment. Every order must contain either an unpaid work or other activity requirement or a supervision requirement, or both.
An Unpaid work requirement gives the person the opportunity to contribute in a positive way to local communities.  Work undertaken as part of unpaid work does not replace paid employment but enhances work carried out by the local authority and community groups.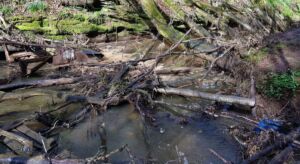 What Type of Work is Undertaken?
The Unpaid Work Team is well equipped to undertake environmental work within communities such as core path clearance and maintenance along with ground maintenance work for churches, community groups, nurseries and nursing homes to name but a few.   They are also capable of assisting with activities such as fencing and relevant repair work.   The unpaid work squads regularly complete painting and decorating tasks for community groups in local halls and for other relevant charities and community organisations.   They can also assist in upgrading and maintenance of local parks, running tracks and public open spaces.
With a well-equipped workshop the unpaid work squads can undertake woodwork tasks and manufacture items for community groups to sell.  Items have been mostly seasonal in nature including wooden reindeer, snowmen and Christmas trees which have helped to boost the funds of community groups.  This is now being expanded to include a wider range of products such as outdoor seating and ornamental garden furniture which should generate much needed revenue throughout the year.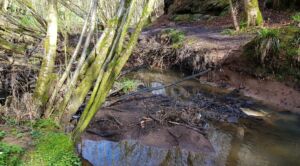 The Benefits of Unpaid Work
People who undertake unpaid work have an opportunity to repay their local communities for the harm caused by their offending.   They pay in time and hard work whilst developing new skills and confronting their offending behaviour.
Unpaid work allows the person to develop and improve their social skills making positive connections with people and communities.  The unpaid work requirement also allows for "other activity" to support people by providing educational support and guidance to enhance their employability status.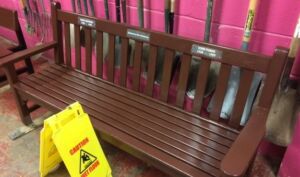 Engagement with the Community
The Unpaid Work Team actively engage with local community groups, this includes the monitoring of local media outlets and outreach from within the team to appropriate projects.
They are an active member of South Ayrshire Environmental Joint Action Group which includes representation from Police Scotland, Scottish Fire and Rescue Services, Community Development, Environmental Services, Housing and has Voluntary sector representation. Referrals are channelled to the Unpaid Work Team through this group.   The Joint Action Group also work in partnership in a coordinated way to provide a strategic response to emerging community need within South Ayrshire.
"A great big thanks again to you and your team for your help and support in setting up the hub and making it work, especially in the first few frantic weeks, we couldn't have done it without you. Please pass our thanks onto your team members.  We'll keep in mind your ongoing offer of support and will be sure to shout if we need assistance."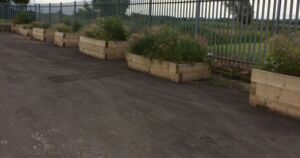 Supporting Services During the Covid-19 Pandemic
At the beginning of the national lockdown in March 2020, local authorities were tasked by the Scottish Government with setting up PPE Hubs to ensure all essential providers of care had sufficient.  The Health and Social Care Partnership (H&SCP) were assigned to manage this initiative but only had two days to organise suitable premises, systems for supply and distribution and staffing before the first PPE delivery.
Due to the national lockdown the Unpaid Work Team had to stop providing unpaid work activities to people on Community Payback Orders.  As a result, the unpaid work premises were no longer in use, and because of this the team were able to offer:
A base for the PPE Hub which provided both warehouse / storage capacity combined with appropriate office and reception facilities.
Staffing both in relation to the distribution needs and administrative requirements for the PPE Hub.
Vehicles to facilitate delivery of PPE to care providers throughout South Ayrshire.
In collaboration with the PPE Hub Manager, the Justice Service Manager and staff from the Unpaid Work Team worked together to set up distribution systems, staff rotas and stock control measures.   The Justice Assistants within the Unpaid Work Team took on responsibility for the administrative functions within the hub and manned the reception area for PPE collection. The Unpaid Work Supervisors predominantly adopted warehousing and distribution / delivery responsibilities.
The first month of operation was particularly frantic requiring several logistical adjustments to meet the growth in demand and evolving PPE requirements. Whilst this was a challenge, through collaborative working with NHS colleagues, demands were met without any failure in the supply of PPE to a wide range of care providers.
The Unpaid Work Team retained this responsibility for the first three months of the South Ayrshire PPE Hub operation. This support allowed the H&SCP time to plan and set up a longer-term solution for PPE distribution at which point the PPE Hub was moved to another location which by then was fully equipped and resourced.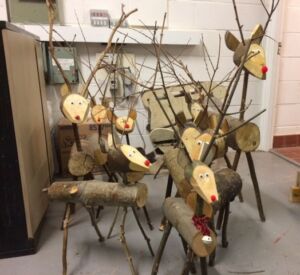 Supporting Local Charities
Moving On Ayrshire is a charity based in Ayr which provides free and confidential counselling for survivors of sexual abuse. Shortly after the resumption of services and following the ease in the Covid-19 restrictions, the Unpaid Work Team received a request for support to paint the office premises.   The Unpaid Work Team completed the necessary assessment to ensure adjustments could be facilitated to maintain the safety of the unpaid work squad in relation to Covid-19 safety requirements, and as such, agreed to complete the work requested.
The Unpaid Work Supervisor responsible for managing the squad took the extra time required to complete this job carefully so that Covid-19 safety protocols were always observed. The work requested was completed to a very high standard and was greatly appreciated by staff at Moving On Ayrshire.
"A wonderful job has been done for us, we are absolutely delighted with the rooms, what a difference."
"The Supervisor always updated us on progress and advised of next stage, he was a delight to work with."
"Our work and workspace was always respected, which created a safe, secure and undisturbed environment for all."
"Huge thanks to all involved, the work will be enjoyed by many."
Referrals to Unpaid Work
The Unpaid Work Team have a generic email account set up to receive referrals from a wide selection of services and/or organisations and groups, including local charities, community groups and Elected Members. Telephone referrals are also welcome, with the Unpaid Work Team happy to discuss how they may be able to offer help.
Voluntary Action South Ayrshire (VASA) is the local Third Sector Interface in South Ayrshire who regularly promote the service to groups when they believe the Unpaid Work Team may be able to offer them assistance.
If you feel your organisation or community group would benefit from the support of Unpaid Work then please contact the Duty Team Leader on Tel: 01292 289749 or email: Community.Payback@south-ayrshire.gov.uk