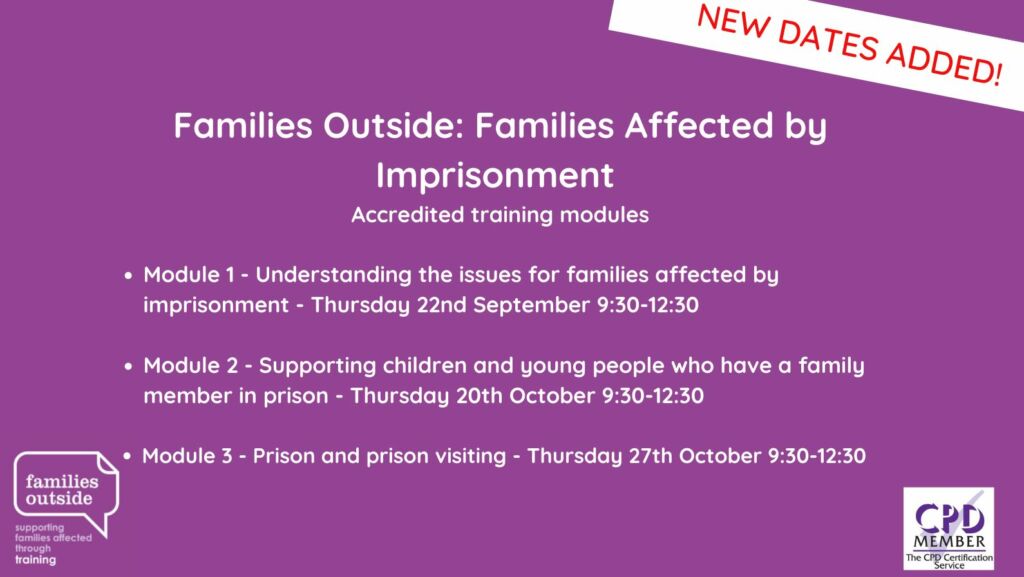 Families Outside is excited to announce their next training dates for September / October 2022.
Families Outside training for professionals is designed to raise awareness of the impact imprisonment has on families, improve practice and develop the knowledge and skills required when supporting families affected by imprisonment. Attendance will contribute towards participants' Continuous Professional Development.
The training will be delivered via Microsoft Teams, and the dates for each module are:
Module 1 Understanding the issues for families affected by imprisonment –  Thursday 22 September, 9:30 – 12:30
Module 2 Supporting children and young people who have a family member in prison – Thursday 20 October, 9:30 – 12:30
Module 3 Prison and prison visiting – Thursday 27 October, 9:30 – 12:30
Please note you do not need to attend all 3 modules – you can attend one, two or all three.
Each module is priced at £55.00 per person.
To book your place, click on the link – Families Outside Events | Eventbrite
If you have any questions, please don't hesitate to email:  training@familiesoutside.org.uk