Community Justice Ayrshire want to highlight the work of local organisations across Ayrshire who contribute to reducing re-offending and who work to create better outcomes for those involved in the Justice System.
For this feature we have a focus on the third sector. We want to highlight the positive difference the sector is making in people's lives and in our communities. We also want people to understand the importance of their role in community justice and reducing re-offending.
We hope this information will raise awareness of the importance of third sector services and highlight some of the important work undertaken in our communities.
Today we shine the spotlight on Apex Scotland.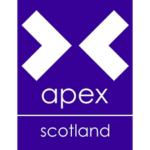 About Apex Scotland
Apex Scotland are a specialist organisation who contribute to a safer Scotland by working with people with convictions or at risk of committing offences to give them the necessary skills to change their behaviour and lead fulfilling lives.
Apex Scotland's work is about reducing re-offending, promoting desistance, tackling deprivation and making communities safer. In all that they do, they make the best use of their resources to bring lasting value to individuals and society.
Apex in Ayrshire
Apex have had their Steps service running in Ayrshire since September 2018, which is funded through the European Social Fund.
The service assists people who have multiple barriers to employment or who are long term unemployed. The objective is for each person to complete their action plan by moving into employment, training, more advanced qualifications, or progression to stage three providers on the employability pipeline.
Barriers (other than being long term unemployed) can include:
Having criminal convictions
Mental health issues
Looked after young person
Migrants
From employment deprived areas
Living in a jobless household
Armed forces veteran
Low income employed
Substance related conditions
This list is not exhaustive, and the local staff can give more details on qualifying criteria.
An Apex Personal Development Mentor will work with each person and agree an action plan, reviewed at regular intervals, created together to address any barriers while building on the persons strengths and skills. They will support each person to achieve specific milestones to ensure they progress towards full time employment, education, training or accessing other employment support.
Some elements they will assist with include:
Benefits requirements (including signing up for Universal Jobmatch)
Letters of disclosure
Rehabilitation of Offenders Act 1974
Registration with health professionals
Opening bank accounts
Progression into volunteering or work experience
Opportunities to achieve recognised vocational qualifications such as CSCS card
Further information can be found in the Steps Flyer
Ayrshire's Personal Development Mentor
John Brownlie is a Personal Development Mentor working across the three local authority areas in Ayrshire. Prior to the Covid-19 pandemic John was based in each job centre one day a week – Ayr, Irvine, Kilmarnock, and Cumnock. Since the pandemic John has been working from home and like many has had to adapt to engaging with people remotely, which has been challenging.
John will work with people to overcome any barriers they have to progression. This could involve finding out what their criminal convictions are and completing a letter of disclosure, providing support with completing a CV and developing some interview techniques as well as help applying for jobs.
"John has been great; he has helped me with a range of things such as interview skills and got me in to a training course that I wanted to do. He went the extra mile by helping me with an application to the Welfare Fund which has helped me get a new bed which I needed as my old one was broken."
"Thank you, John, for all you have done, I can look forward to seeing a better future for myself and my son. I have enjoyed completing the SQA Employability Award and it has helped me gain new skills such as video interview techniques. It has helped me increase my confidence."
Additional Support
Like many third sector services, Apex were able to access funding through the Wellbeing Fund which was used to purchase devices and data to help people stay engaged with the service. This has been critical for enabling clients to become, or stay, connected and to access support during this time.
Apex now have an online resource, STACC, that people engaged with the service can access. This resource provides access to training courses, including the SQA Employability Award. The employability qualification is an introduction to the world of work for people who are unsure about how to gain and sustain employment. It is available at SCQF level 3 and level 4. The course focuses on generic employability skills, to enable a successful move into the job market.
John has successfully managed to deliver this course to a number of people remotely and in total across Ayrshire there have been 10 people who have now gained a qualification (between October 2020 and January 2021).
80 % of our service users have criminal records.
Referral Process
Referrals are predominantly from job centre staff, but other agencies and services can make referrals as long as the person is eligible. This means they need to be long term unemployed or economically inactive and have two barriers to progression, one of these is having a criminal record.
Anyone interested in joining Steps can speak to their DWP Work Coach who will complete a referral form or contact John Brownlie on, Tel: 07487268761 or by email at steps.ayrshire@apexscotland.org.uk
Further information on Apex Scotland can be found on their website Apex Scotland – A Positive Future