Throughout 2023 we will continue our series featuring articles that focus on a 'day in the life' of people working in a variety of services and organisations across Ayrshire, whose dedication and efforts are key to reducing reoffending and improving outcomes for people in contact with the justice system and the wider community who are impacted by justice issues.
We would like to thank Suzie for sharing her story with us.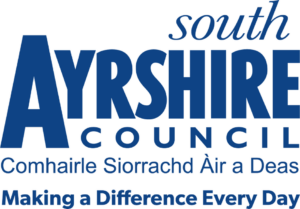 Suzie is a Rapid Rehousing Transition Plan Officer with South Ayrshire Council and works within the Housing Policy and Strategy Team.  Her role is to assist with the ongoing implementation and review of the councils Rapid Rehousing Transition Plan (RRTP), related plans and strategies.
RRTP involves shifting focus to preventing homelessness from happening in the first place, considering what more can be done to prevent homelessness, and how to work together with partners to achieve this.
Where homelessness cannot be prevented, Rapid Rehousing means ensuring a settled, mainstream housing outcome with appropriate support is found as quickly as possible. Temporary accommodation should be furnished and within the community. Less time spent in temporary accommodation and with fewer transitions as possible.
RRTP also includes Housing First which is an approach to ending homelessness through housing and support provision. It prioritises access to permanent housing with tailored, wraparound support which is person led and involves a range of partners including Justice, ADP, NHS, and others to meet people's needs and empower people to live well.
The more opportunities we have to work closer together, the better the outcomes are for people.
The Role
This is a strategic role and not as front facing as what I have been used too but I love the change and enjoy the challenge. I work within a great team which helps too!
Imagine a jigsaw puzzle and all partners have a piece to bring to the table to build the bigger picture – that is how I see early intervention and prevention work within our Rapid Rehousing plan.
Projects I am involved in include developing and improving pathways for people experiencing homelessness. Developing our Local Housing Strategy for 2023 – 2028 through consultation with partners and the public. Recently, a working group was established in South Ayrshire around prison leavers, bringing all services closer together with improved planning for liberation and to ensure the best chance of success.
The council run a Social Letting Service – Your Choice Lettings to increase access to good quality homes for people who have experienced homelessness or on low incomes.
All examples of the bigger picture involved in rapid rehousing agenda.
How I got where I am
Helping people is where I have always wanted to be and looking back at my previous roles, I have most definitely kept to this.
Studying Health and Social Care gave me the foundations on how to provide meaningful support to people in a variety of social care settings. Working with families affected by addiction and imprisonment in Kilmarnock Prison was where I really put what I learned at college to use. I was the first point of contact where people would be processed for visits with loved ones.
From here I moved on to become a Community Service Supervisor, working with young people undertaking a Community Payback Order and linking them to employment opportunities, further education and housing options, steering them away from further involvement with Justice Services.
Housing Support was next, I applied for a job not knowing very much about housing and have never left the sector – just moved around a bit.
Support work is a tough gig, but you do it because you love it. My days as a Housing Support Worker involved group work with young care leavers, gate pick-ups from prison, housing information sessions in Schools to managing a team of officers. It was in the office, out the office and in communities.
I joined South Ayrshire Council at the end of 2021, having worked for a local housing information and advice centre for over 9 years, developing and managing housing and engagement services within the organisation.
People thrive off hope, purpose and connection and we can often overlook the significant role communities play in this.
"I believe building positive relationships across all services is crucial to support homelessness prevention work and to progress the Rapid Rehousing agenda in South Ayrshire."
A typical day
Days really vary and can involve meeting and discussing housing topics with involved tenants through our Tenant Participation Team. Analysing homelessness data to inform service delivery or speaking at events about Prevention of Homelessness Duties within the new Housing Bill.
How we deliver services to people through housing or to those experiencing homelessness is top priority for the council. Legislation determines how we deliver homeless and housing services, keeping on top of any changes is important to ensure we are keeping in line with new government legislation and national direction.
I believe building positive relationships across all services is crucial to support homelessness prevention work and to progress the Rapid Rehousing agenda in South Ayrshire.
Challenges affecting my work
Covid-19 brought a lot of restrictions for people and how services were delivered. Moves were not permitted which meant people remained in temporary accommodation longer. The lack of available materials required to complete jobs meant people could not move on to their new homes. These factors put huge pressures on housing and homeless services and impacted on the pace of the rapid rehousing agenda.
The cost-of-living crisis has affected so many and continues to do so. The number of Landlord's within the Private Rented Sector is reducing which means less properties are available to people considering a move to the private rented sector. These factors contribute to the increase of demand on housing and support services.
There will always be challenges and it is how you adapt and respond to them that truly matter.
What I love about what I do
I love the range of work involved within the Housing Policy and Strategy Team, it is a great team to work with and who share the same passion – making a difference every day.
There is so much to learn in housing and being in a role where you can build on existing successes and develop new projects is hugely satisfying.
"I believe everyone should have a place of their own to call home, it is the foundation for people to thrive and live well."
If I could change anything
I would build more homes, so we had more available stock for people who required housing. The pressures on housing and homeless services means people can be waiting for some time until an offer of housing is made. Building more properties is only part of the solution though but it is an important one.
I believe everyone should have a place of their own to call home, it is the foundation for people to thrive and live well.
Change is good!
The not so nice parts of my job
The reality is, you lose people you have supported over the years, and it is never easy to hear when things have not worked out for them in a way you hoped it would.
Where I see myself in five years
I am not planning to move away from the Housing sector but who knows what the future holds.
"I enjoy a challenge and I love nothing more than seeing others do well in life."
Would I choose this path again if I could?
Absolutely!
I enjoy a challenge and I love nothing more than seeing others do well in life. Job satisfaction is hugely important to me, and I have been lucky over the years to have this with each job.
Always bring a positive attitude towards your work, it is infectious.
What would I say to someone considering this career path?
Go for it!
Take every opportunity going and learn from others along the way. Care and compassion are key ingredients when working in this sector and thankfully I have worked with so many committed and passionate people over the years.