In our new series we will be featuring articles that focus on a 'day in the life' of people working in a variety of services and organisations across Ayrshire, whose dedication and efforts are key to reducing re-offending and improving outcomes for people caught up in the Justice system, their families, victims, and the community as a whole.
We would like to thank Diane and David from Justice Services in South Ayrshire for sharing their story with us.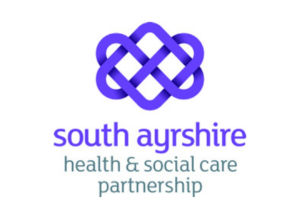 Diane and David are Justice Assistants with South Ayrshire H&SCP and are based within Ayr Sheriff Court. Diane has been in post for 5 years and has a previous experience with the Turnaround Around Project where she worked in partnership with South Ayrshire Justice Services facilitating offence focused group work programmes, focusing on reducing the risks of reoffending, drug and alcohol misuse, cycle of change and provided support with making positive changes to assist people to successfully complete their court orders.
David has been in post for 10 years and has a wealth of experience within the Court role. Prior to this for a period of 3 years he cased managed and supervised Community Orders within the Justice Unpaid Work Team.   Providing direct supervision and support to people who have been issued with unpaid work orders ensuring they are fully aware of their responsibility to comply with the order and the standards of work performance to be maintained throughout the duration of the order.
Role
Justice Social Work staff provide a critical social work function within the Court setting. We are the first point of contact within Justice Services for many people and their families and we are appropriately trained to deal with the demands and varied needs associated with people we assist.
The Court based worker needs to operate in a pro-active way and work well within a multi-professional setting which is integral to the liaison and partnership approach required to deliver the service effectively.  There are a range of tasks associated with providing information and advice to the Court with some taking priority over others.
A typical day
A normal working day starts in the Social Work Office within the Court and the first task is to ensure all the requested Criminal Justice Social Work Reports for that day are available to the Court.  It is our job to familiarise ourselves with the content of the reports as we may be required to clarify issues raised in reports with a Lawyer or Sheriffs during sentencing.
Accessing the morning custody list provides us with information on people who have been arrested in the previous 24 hours and are due to appear at Court that day. These people are screened for any risk markers such as mental health, substance use, relationship difficulties or may be at risk to themselves. Identified persons are then interviewed and if required, referrals are made to the Forensic Mental Health Team for further assessment to establish if they are fit to be processed through Court.   For those whose offence is against children or of a domestic matter then Children and Families Initial Response Team are immediately informed and later advised of the Court outcome.
All women in custody are screened under the Women's Screening Programme providing the Sheriff with a Court Action Note and a Supervised Bail Assessment (if required). This report highlights their difficulties, community support needs and what interventions can be provided as part of a bail support plan to offer the Sheriff a viable alternative to remanding women in custody. Depending on their needs, the women are thereafter referred on to an appropriate support agency which may include Mental Health, Addictions, Housing, Benefits, Women's Aid, or any other crisis intervention support that they may require.
"Prior to working within this environment, my understanding of Justice Services was very limited like most people's" 
In Court
There is a wide range of tasks we are required to undertake while the Court is in session which include:
Providing information for Sentencers including arranging for same day oral / written reports
Interviewing people immediately after the Court has requested a Criminal Justice Social Work Report, ensuring the person understands the Courts decision and its implication, confirming their address and contact numbers and providing an information leaflet on the purpose of the report for the Court
Interviewing people immediately after the Court has imposed a Community Payback Order and furnishing them with initial appointments in relation to Health and Safety or Supervision as the case may be
Advising managers of any relevant positive or negative comments made by Sheriffs in relation to reports or other aspects of the service
Interviewing people immediately after the Court has imposed a custodial sentence or remand and forwarding the relevant information to the receiving prison such as details on persons who may pose a risk of harm to themselves or others, those for whom custody is likely to be particularly distressing or persons facing their first experience of custody. We would also inform the person about the prison-based Social Work service and how this can be accessed
Providing support and guidance to families and friends of individuals who may be distressed by the outcome of Court proceedings
Issues affecting work at the moment
Covid19 has brought various changes to the Justice system and the way Courts operate. Cases are now time slotted which reduces the build-up of people within the building and the public gallery remains closed due to social distancing. This can be stressful for people who rely on the support of their family or friends.
Limited face to face contact with people in particular custody and remand persons who now appear by video link from where they are being held.  This creates difficulties in arranging pre / post sentence interviews, undertaking assessments, and collating further information required for various reports. It also presents a barrier for building positive future relationships with people where the face-to-face personal contact has been removed. We lose out on the ability to fully connect with people when they are at their most vulnerable.
There is a major change with Jury trials due to social distancing where the jury is no longer within the Court. They are in the local cinema, and everything is transmitted by video link. The jury can see the Sheriff, accused, lawyers, fiscal and witnesses on a large screen and the Court is able to see the jury again on a large screen which resembles something from Blankety Blank. This process is good until the technology fails, which then causes interruptions and delays to procedures but in the most part, things have been working well.
"This provides me a sense of job satisfaction knowing my work may make a difference to someone"
What I love about my Job
Diane:  Working within a unique environment in a multi-professional setting which provides a variety of challenges. This provides the platform to challenging purposeful work such as problem solving, helping people that can't help themselves, assisting and guiding them to overcome difficulties, steering people in the right direction with a view to making positive changes.  This provides me a sense of job satisfaction knowing my work may make a difference to someone.
David:  As Diane points out the varied challenges from one day to the next keeps me motivated and inspires me daily. I am constantly surrounded by people with a vast amount of knowledge in many fields of work, however we share the same vision so there is always someone to turn to when help is required. The trust put in you and the recognition of your work practice from senior members of the Court is key to what I love about my job.
The not so nice parts of our job
The revolving door as we call it.  Seeing the same people who you have supported and tried to steer in the right direction, but their addiction has got a hold of them, or they simply don't feel able to change, and they continually commit crime as a result.   Some people see prison as a safeguard where they are provided with the comforts that they don't have in the community such a friendship, heating, food, healthcare, support and not having the worry of trying to survive from day to day.
Distressed family members, when a loved one is sentenced to a term in prison can be very difficult for all concerned and the impact this has on their lives emotionally and often financially can be huge. Empathy and guidance are a big part of the Court workers role, providing contact details to prisons, as well as family support and helpline numbers. Every family is different so there can be a variety of questions to be answered and this may not be possible in the short space of time we have with them.
"My goal is to remain within Justice Services and continue to be self-motivated, embracing and adapting to changes that will undoubtfully follow when the current pandemic is over" 
The moment I will always remember
Diane:  When I first started at the Court the Sheriff's Bar Officer approached me and informed me that I was to attend the Sheriff chambers for reason's unknown to myself. This put my head in a spin thinking I had done something wrong and was going to be reprimanded.   I had never addressed a Sheriff before, therefore didn't know what to say, how to stand and whether I was required to bow my head going in and leaving the chambers. However, after arriving at the chambers a quivering wreck the Sheriff welcomed me in and asked me to take a seat (which I nearly fell off).  The Sheriff introduced herself, welcomed me to the team and made me feel at ease straight away, explaining that if I ever needed any assistance then I was just to ask. The relief I felt was unimageable and this moment will stay with me forever as it was a lesson in not over thinking situations by making mountains out of mole hills.
David:  My first day in the position scared me to death in relation to all the formalities, when to stand, when to sit and how to address someone. The thought of how I was ever going to understand all the different sentences passed down and the various reasons for deferment of cases.  The fear of having to reply to a Sheriff in the manner of My Lord or My Lady without mixing them up, which is often the case and does bring some humour to the proceedings.   After many years in the job and having built many relationships with Lawyers and Sheriffs alike, it is now second nature.  However, I still look around the Court every day and see the fear that a Sheriff presents to someone as he or she takes up their position in Court prior to proceedings starting.
Where I see myself in 5 years
Diane:  My goal is to remain within Justice Services and continue to be self-motivated, embracing and adapting to changes that will undoubtfully follow when the current pandemic is over.  I feel it is always important to be optimistic and maintain a good positive work attitude in addition to learning new skill sets which can be applied to other areas of Justice Services.
David:  Unfortunately, or fortunately you may say, retirement age is looming for me in the next 5 years but at this time I am keeping an open mind unless of course the magic 6 numbers come to fruition. In the meantime, I remain focused and ambitious, and should opportunities come my way to progress to the next level in my structure then this would be given considerable thought.
"The varied challenges from one day to the next keep me motivated and inspires me daily"
Would I choose this path again?
Diane:  Most certainly and I do not regret any of it. The job enables me to engage in meaningful and rewarding work where you learn something new every day, not only about the practice and theory but also about myself. I enjoy helping and supporting people in crisis and being able to signpost them on to our varied network of agencies to address their problems.
David:  Most definitely it has been a real eye opener to society as a whole. Prior to working within this environment, my understanding of Justice Services was very limited like most people's.  I often asked myself as I read newspapers or listened to the news 'how did that person avoid a jail sentence for the type of offence he/she committed' and I am continually asked that question even today by work colleagues who have never worked within the Court system. The legal system is complicated, but once you understand all the requirements and sentencing options available and listen to the Sheriffs reasoning behind these sentences such as Community Orders or Deferred Sentences for Good Behaviour then everything begins to make sense.  Prison is not the place for everyone!!
My own thoughts are that for anyone wanting to pursue a career in Social Work especially Justice Services, they should be given the opportunity at the very start of their career to spend some time within a Court setting as this would give them the opportunity to see where the criminal system starts and ends for a person and follow all the interventions in between. It would also highlight to case workers who prepare reports for the Court how they are utilised and interpreted by both lawyers and sheriffs.